Bentonville Building Washing Made Easy with Our Expert Help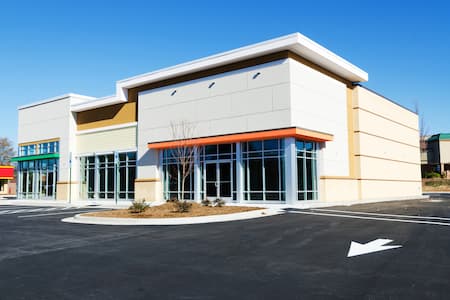 In a city like Bentonville, downtown curb appeal is essential for businesses and residences to maintain marketability. Whether you need to maintain a storefront, commercial center, or apartment complex, Southern Shine Cleaning Solutions building washing is the only solution that will make your building stand out from the crowd.
Our team of experts makes Bentonville building washing easy. Born and raised in Arkansas, we understand what makes our community function and how to create the most outstanding image for Bentonville. Our professionals' expert understanding of commercial pressure washing and cleaning means no issues or complications for you!
Maintain Your Business Buildings With Exterior Building Cleaning
Maintaining a building exterior is an essential component of marketability in Bentonville, whether your property is a local business, a hotel, or even a block of apartment buildings. Whether your customers are popping in to peek at your fashion boutique or have arranged an appointment for a professional viewing or meeting, the exterior will speak to them first. No fashionista or potential tenant will be impressed by a stained storefront or a rental office marred by grease.
That's why Southern Shine Cleaning Solutions is here to simplify exterior building cleaning! Our service professionals know how to make the job of building washing easy. Our technicians will give your building a thorough servicing and leave no trace of the prior dirt, grime, or discolorations that existed before.
Simplify Your Building Maintenance With Expert Business Building Washing
When you call our number for a free estimate, you can rest assured that you're arranging to have the best building washing experience available. Our professional technicians' vast maintenance experience ensures we know how to get the job done right the first time. Whether you have a single-room boutique or gift shop, a large complex of apartments, or your property includes priceless, fragile historical architecture, the professionals at Southern Shine Cleaning Solutions are deterred by nothing.
Through our years of experience, we know exactly the right techniques to use in any situation. After an evaluation, we'll know if pressure washing, power washing, or soft washing will be the right technique. We understand stains and damage, even if they're old and deep-seated or if it was yesterday's graffiti, and how each situation is unique. It's never a good idea to approach an old stain on fragile wood the same way as new paint on cement! While some situations require time and patience, others yield to good, old-fashioned brute strength and force. Each of our technicians is professionally trained to handle every situation and approach discolorations or damages in a way best to preserve the integrity of the materials and your property.
CALL NOW! WE ARE THE RIGHT CHOICE FOR PRESSURE WASHING IN BENTONVILLE & THE SURROUNDING AREAS!