About Southern Shine Cleaning Solutions - A Bentonville Pressure Washer to Upgrade Your Property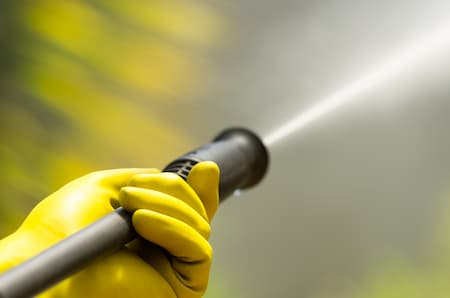 Southern Shine Cleaning Solutions is proud to be Bentonville's highest-quality pressure washing solution! Locally owned and operated, we know Bentonville like none other. With our roots in the community, we're more invested than other cleaning services in providing the best, most thorough service in the area. Bentonville is our home, and we care about making it look its best!
Our mission to serve Bentonville is why we offer pressure washer services that other cleaners don't, such as building washing, gutter brightening, and paver sealing. Sealing and brightening are a step above normal cleaning because Southern Shine Cleaning Solutions is above normal cleaning. We go beyond ordinary maintenance to make sure your property stays clean. Other services might benefit from providing a quick service that doesn't last. But brightening and sealing services ensure your property and buildings stay clean for longer. That might not be the best for us as a company, but it means the best service for you, and it's the best quality for Bentonville!
Gutter Brightening And Pavement Sealing: Above & Beyond Regular Cleaning
Southern Shine Cleaning Solutions offers the very best services to Arkansas with brightening and sealing solutions that ensure your property stays clean longer.
Many services that offer pressure washing in Bentonville only perform gutter and roof cleaning. Gutter cleaning does what you expect: the service removes accumulated dirt and debris from inside the gutter, allowing a clear path for rainwater and clearing excess soil buildup from the outside. Brightening services, however, go a step beyond; it's a chemical process that removes tarnish and rust stains from gutter exteriors. This is a beautification process that improves the curb appeal and resale value of your property. It also improves the quality of your gutters and means it will be harder for gutters to stain again.
Pavement sealing has a similar effect, closer to ground level. Many services will only offer cement and pavement pressure washing for your driveways and sidewalks. However, once those are cleaned, people's daily use of parking and walking to and from the house easily mars them again. That's where pavement sealing comes in! This chemical treatment adds a sealing layer over newly cleaned surfaces that repels future moisture and grime. Adding this sealant over a freshly cleaned sidewalk or driveway helps ensure that the professional cleaning remains for years to come. It will increase the longevity and quality of your property and make your surfaces shine!
CALL NOW! WE ARE THE RIGHT CHOICE FOR PRESSURE WASHING IN BENTONVILLE & THE SURROUNDING AREAS!